Your wedding ceremony should be one you will never forget. To make it even more memorable, consider using a creative backdrop for your ceremony. It is easy to choose a backdrop that fits in with the theme and ambience of your wedding. Using a backdrop will enhance the pictures that the wedding photographer takes during the ceremony. Whether its fabric or people holding wedding sparklers, a cool backdrop will make your wedding photos even better.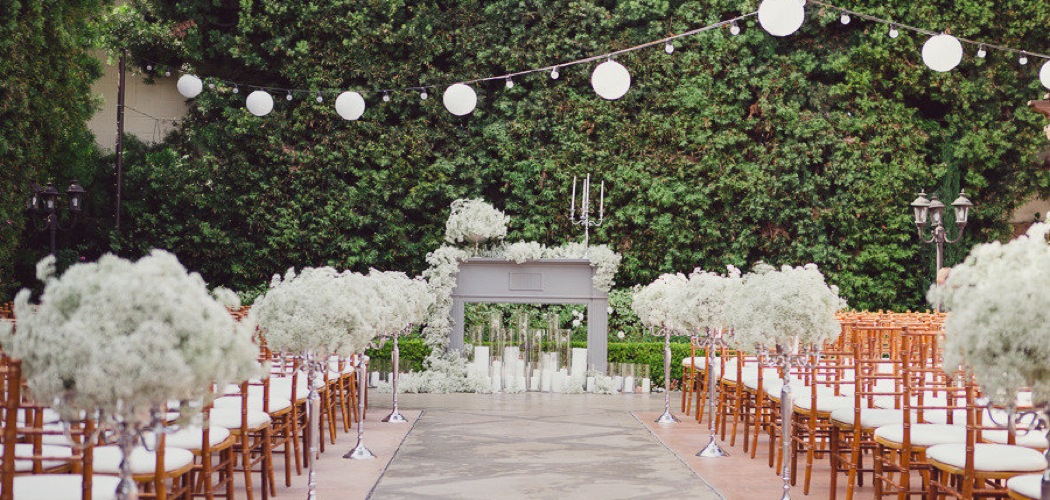 For a romantic touch that your guests will love and will make your day even more magical, a beautiful lace backdrop can be used for an indoor or outdoor wedding. This simple but elegant look will automatically make your ceremony look and feel more classy and sophisticated.
Fabrics other than lace can be used to create a draped backdrop. Choosing soft fabrics in your wedding colors will pull together your theme and make your décor perfectly organized. You have many options when it comes to using fabrics for a draped backdrop. Many brides choose a rosy pink shade or a combination of pink and blue or white.
If you have ever browsed a DIY website or magazine you have probably figured out that chalkboard is the new wall. A large chalkboard can be a fitting backdrop if either you or your spouse-to-be is a teacher, or even if you want to harken back to your childhood days of writing on the chalkboard at school. Using a chalkboard as your backdrop may be one of the easiest ways to personalize it for your special day.
Other possible DIY ideas that can be incorporated into your wedding ceremony backdrop include origami. A hanging paper crane can be created using the art of origami, and you can even involve your bridal party or close family members in the process of creating it, making your wedding more interactive for the people who mean the most to you. Not to mention that it gives your wedding a whimsical feel that might help take the edge off the stress of the day. Origami is so creative that it becomes an easy way to self-express through your wedding day décor.
If you want your backdrop to be really interesting, you can recruit a few guests to hold lit wedding sparklers in the background for an amazing effect. Sparklers may not be the first thing you think of when creating a backdrop, it can really make some of your wedding photos turn out amazing. You'll want the sparklers at least ten feet back from where you're taking your photos for safety and quality purposes, so you need to get the longest wedding sparklers you can find so they shop up from that far away. If your venue doesn't allow you to use wedding sparklers on the premises, you can always swap them out for glow sticks or LED devices.
A floral backdrop can be a beautiful and eye catching addition to your wedding ceremony. One of the most popular choices for this type of backdrop is succulents, but they are by no means the only choice. Virtually any type of flower can be used to create a backdrop that not only looks beautiful but gives off a beautiful scent as well.
Alternatively, if real flowers aren't in your budget or you want something more unique, there is always the choice of taking paper rosettes and creating your own backdrop. This allows you to mix and match your wedding colors to make your backdrop even more spectacular. Paper rosettes can easily be strung up on your wedding arch.
Most of these ideas would work as well for indoor weddings as outdoor affairs so the only thing limiting you in the creation of your backdrop is your imagination and your ability to choose a backdrop.